Spring 2022 Housing
We are not offering travel isolation prior to Spring 2022.
Spring 2022 housing applications now open!
Deadlines
Date
Application
October 18
Spring Housing Application opens
October 29
Spring Housing application (or withdraw) deadline
You do not need to reapply for housing if you currently live in Enns, Neumann, or Karklu.
If you wish to withdraw from housing for Spring Semester, withdraw by this date to avoid being charged housing deposit.
November 19
Deposit Payment Deadline
If you fail to pay housing deposit by this deadline, you will be removed from your current space and placed on waitlist.
January 7
Spring Housing Move-in for returning students
Move-In Information , Fees, and Refunds
Spring 2022 Move-in and Early Arrival
Early Arrival:

If you need to arrive after January 4, but prior to your assigned move in day, please complete an early arrival form.

Fees:

Showing up with no advance notice before your approved check-in date will result in either a 15 EUR fee or quite possible rejection of housing.
| Date | Arrival | Person/Office Confirming List |
| --- | --- | --- |
| January 5 | Winter Housing closes, transfer to Spring space | Housing Coordinator |
| January 6 | First Year Students, SA, Ex Students | Admissions, CIE |
| January 7 | Open for all returning students | |
| January 10 | Classes Start | |
| January 13 | Last day to check in | |
Check-In after 17:00 January 13, 2021
All students must check-in by Thursday, January 13, 2021; otherwise, they will be removed from the housing roster and their space offered to a student on the waitlist.
Fees and Refund Policy
| Billing Room Type | Price/Semester | |
| --- | --- | --- |
| 4-person room | 475 Euro | |
| 5-person room | 425 EUR | |
| 6-person room | 375 EUR | |
| Karklu 5-person room | 400 EUR | |
| Arrival without Advance Notification | 15 EUR/Arrival | |
Students are billed in advance via Student Financial Services for the entire month according to the established rates above.
| Refund Deadline | Amount Refunded |
| --- | --- |
| January 10 – January 16 | 100% |
| January 17 – January 30 | 50% |
| January 31 – February 13 | 25% |
| After February 13 | 0% |
*Housing refund is based upon the day the student moves out of the halls or completes the withdrawal process
Refunds: Students who leave early are eligible for a refund according to the Refund Schedule above.
---
Winter Break Housing Information
Winter break housing application is now open!
| Date | Deadline |
| --- | --- |
| October 18 | Winter Housing Application opens |
| October 29 | Priority Deadline for winter housing |
| December 18 | Winter Housing begins |
| January 5 | Winter housing ends |
Payment
For payment information, visit Student Financial Services.
Price: 50 Euro Flat Rate
There is no daily rate for winter housing
Your SFS account will be charged in January for winter housing
FALL 2021
THIS IS FOR NON-ISOLATION ONLY.
There are still some spaces on campus. If you move into housing now, you will be charged a prorated rate for the remainder of the semester.
Must meet requirements of GPass/LCC community pass in order to move on campus.
If you apply for fall housing mid-semester and wish to continue living on campus in Spring 2022, you must reapply for Spring housing.
General Information
University Housing Options:
| Hall | Location |
| --- | --- |
| Neumann | On-Campus |
| Enns | On-Campus |
| Karklu | Off-Campus |
Enns Hall
140 Students
4 floors of 35 residents
4 person, 5 person, 6 person rooms
One 2-person handicap-accessible room
shared common entryway, a private WC and shower, a food storage area and refrigerator.
The bedroom areas are furnished with bunk beds, desks, chairs and shelves for each student.
Neumann Hall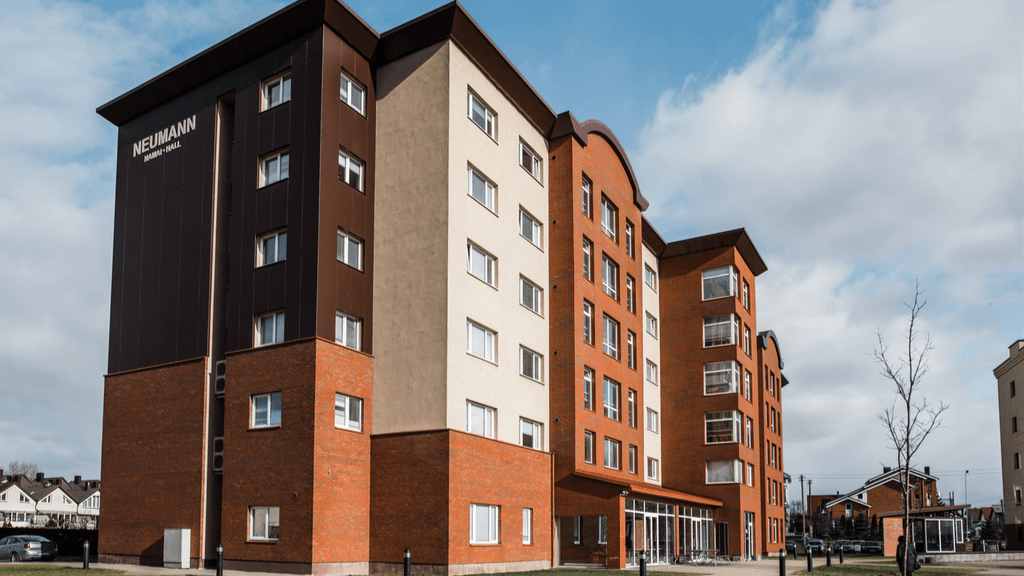 258 beds
5-6 people rooms
6 stories
10 residential wings with shared kitchen on each wing
Features study rooms, computer lab, bike storage, large lobby area
Laundry on first floor
Karklu Hall
Location Karklu is 30 minutes away by foot, 15 minutes by bike or bus (#9) and 7 minutes away by vehicle (although parking in the area is for a fee and very limited).
Floor Each floor offers 6 rooms sharing a kitchen and lounge. Complimentary room cleaning is provided weekly and kitchen cleaning is provided daily. Access to each floor would be limited to LCC students only.
Furniture Each student is provided with a bed, chair, desk and closet. Unlike Neumann and Enns, none of the beds are bunks and all of the furniture except the closet is movable so room configuration can be customized to student preference.
Assignments Similar to on-campus housing, all rooms are single-gender, all floors are mixed gender and the Housing Coordinator manages all assignments.
Building Students from 3-5 local universities and colleges typically occupy the 12-floor building and share the laundry facilities in the basement. Similar to Neumann and Enns, washers and dryers do not have a fee for usage and wifi is provided by Klaipeda University. Demand will determine how many floors LCC will occupy in the building.
Room Each room includes a private bathroom and two bedrooms with doors. These are 5-people rooms. The smaller bedroom accommodates two students while the larger bedroom accommodates three students. Each bedroom includes its own refrigerator/freezer (unlike Neumann and Enns which has one shared for both bedrooms).
Staffing The facilities staff and 24/7 reception staff speak Lithuanian and Russian. Similar to Neumann and Enns, LCC would provide additional support staff such as a Resident Assistant for each floor and a Discipleship Assistant for the community.
Fees Similar to on-campus housing, Student Financial Services will charge student accounts. A space in Karklu will cost 400 EUR per semester to account for differences in accommodations
Storage
You may put items in storage in the last two weeks of a semester during storage hours (20:15-21:15 or during checkout with your RA
Items can be removed from storage the first two weeks of the semester during storage hours (20:15-21:15).
Assignments
Location:


Room Selection – applicants who participated the Fall sign up process in Spring 2021 were able to choose a space and roommates.
Waitlist – location is subject to availability for students offered a space via this process.
Transfer Request – residents with a confirmed space may request a transfer up until the end of add/drop week via the appropriate form in eRezLife, however, granting of requests increases the earlier it is submitted. Requests after add/drop week are typically not granted due to the difference in billing, additional preparation required and disruption to affected residents.

Roommates:


Applicants who applied and paid the deposit by the deadline were able to create roommate groupings by using the "Roommate Group" and "Roommate Search" menus (only visible if desired roommate has a completed application).
All other applicants' roommates are subject to availability.
Most rooms for returning students has a reserved bed for a Center for International Education student (Study Abroad, Erasmus or International Exchange).
Waitlist
Students that are on a housing wait-listwill be contacted by the Housing Coordinator as bed-spaces open up.
Wait-list students do not need to pay a housing deposit and/or housing fee until offered a space. If the bed becomes available, the Housing Coordinator will communicate with the students on the wait-list individually through their LCC email. The Housing Coordinator removes all students from the list who are no longer interested or do not respond by the indicated deadline.
Opting out of housing after the housing application was submitted and deposit/housing fee was charged will result in the 60 EUR charge on the account.
The wait-list takes into account the Priority Criteria first and later spaces are offered on a first-come-first-served basis.
Housing cannot be guaranteed to wait-list students. Therefore, all students on the wait-list are encouraged to secure accommodations either prior to leaving campus in the spring or prior to classes in the fall by returning to campus early.
Non-University Housing Resources
Considerations
As we approach and plan for the fall semester, we must account for the following external factors:
Travel restrictions and border closing(s) that changes frequently
Social distancing laws and government-mandated health regulations
Requirements for students arriving from outside of Lithuania
Decisions
To accommodate an easy move-in and ensure the health and safety of our residents:
Residence Hall rooms will resume regular occupancy of 4-6 students per room.
On-campus housing is currently reserved only for students registered as on-site. If space permits – spaces can be offered to offsite students in Klaipeda.
The most updated information on COVID19, arrival procedures, affected countries is available at www.lcc.lt/coronavirus Questions
All non-isolation questions should be directed to Housing Coordinator at housing@lcc.lt.
Arrival from Abroad
THIS IS FOR ISOLATION ONLY.
A non-isolation space requires a separate application and has a separate section above.
We are no longer offering travel isolation in on campus facilities. For more information on arrivals and self-isolation, select "Latest arrival information" below.
Questions
All self-isolation questions should be directed to Assistant Resident Director Alina Kovyrialova at asstrd@lcc.lt.
Housing and assignments questions can be referred to housing@lcc.lt
Have a question?
Contact: housing@lcc.lt