Fees and Refund Information
2022-2023 Fees and Refund Policy
| | | |
| --- | --- | --- |
| Billing Room Type | 2023-2024 Price/Semester | |
| 4-person room | 625 EUR | |
| 5-person room | 575 EUR | |
| 6-person room | 525 EUR | |
| Arrival without Advance Notification | 15 EUR/Arrival | |
| 2023-2024 Housing Deposit | 150 EUR (one-time) | |
Refunds: Students who leave early are eligible for a refund according to the Refund Schedule (Please see full refund schedule on SFS site).
*Housing refund is based upon the day the student moves out of the halls or completes the withdrawal process
---
Summer Housing Information
Summer Housing is available for students, subject to capacity and availability. Room type options are limited based on which residence hall is selected for use.
Students who stay all summer should be informed in advance that they it is likely they will have to move multiple times to a different space to accommodate conferences, maintenance and upkeep.
| | |
| --- | --- |
| Room Type | Price/month |
| 4-person room | 160 EUR |
| 5-person room | 145 EUR |
| 6-person room | 135 EUR |
General Information
140 Students
4 floors of 35 residents
4 person, 5 person, 6 person rooms
One 2-person handicap-accessible room
shared common entryway, a private WC and shower, a food storage area and refrigerator.
The bedroom areas are furnished with bunk beds, desks, chairs and shelves for each student.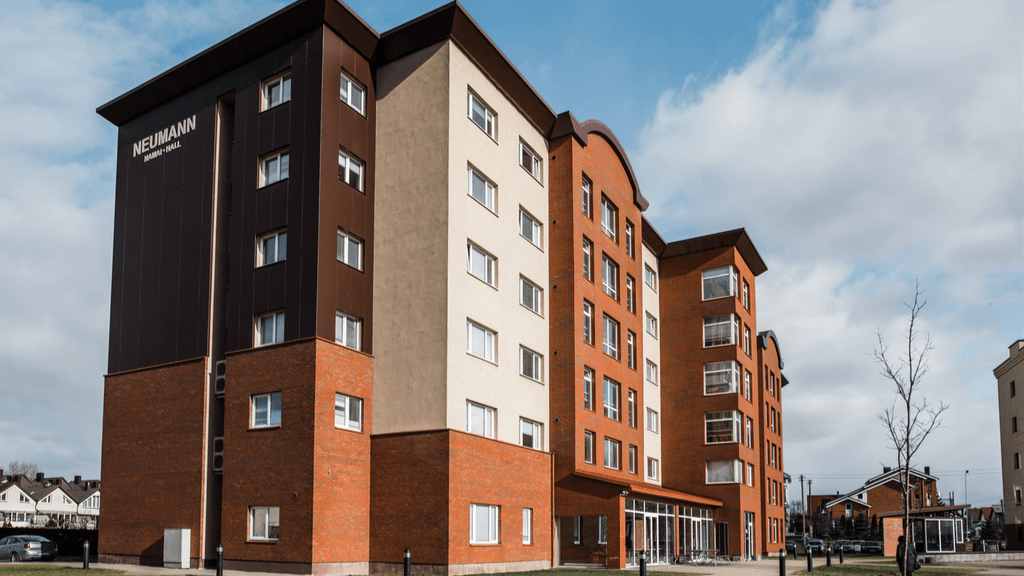 294 beds
6 person rooms
6 stories
10 residential wings with shared kitchen on each wing
Features study rooms, computer lab, game room, large lobby area
Laundry on first floor
You may put items in storage in the last two weeks of a semester during storage hours (20:30 – 21:30) unless otherwise posted.
Items can be removed from storage only during the first two weeks of the semester during storage hours (20:30-21:30).
Placement:


Room Selection – applicants who participated the Fall sign up process in were able to choose a space and roommates. There is not a room selection process for Spring Semester and most assignments remain the same.
Waitlist – location is subject to availability for students offered a space via this process.
Transfer Request – residents with a confirmed space may request a transfer up until the end of add/drop week via the appropriate form in eRezLife, however, granting of requests increases the earlier it is submitted. Requests after add/drop week are typically not granted due to the difference in billing, additional preparation required and disruption to affected residents.


Roommates:


Applicants who applied and paid the deposit by the deadline were able to create roommate groupings by using the "Roommate Group" and "Roommate Search" menus (only visible if desired roommate has a completed application).
All other applicants' roommates are subject to availability.
Most rooms for returning students has a reserved bed for a Center for International Education student (Study Abroad, Erasmus or International Exchange).
Students that are on a housing wait-list will be contacted by the Housing Coordinator as bed-spaces open up.
Wait-list students do not need to pay a housing deposit and/or housing fee until offered a space. If the bed becomes available, the Housing Coordinator will communicate with the students on the wait-list individually through their LCC email. The Housing Coordinator removes all students from the list who are no longer interested or do not respond by the indicated deadline.
Opting out of housing after the housing application was submitted and deposit/housing fee was charged will result in a fee equal to the amount of the housing deposit.
The wait-list takes into account the Priority Criteria first and later spaces are offered on a first-come-first-served basis.
Housing cannot be guaranteed to wait-list students. Therefore, all students on the wait-list are encouraged to secure accommodations either prior to the start of classes.
After reserving a certain amount of spaces for new students, erasmus and study abroad students, due to limited space, the Residence Life team establishes priorities and points for on-campus housing. Priorities are as follows:
Be Enrolled full-time (24 and more credits)
Not above 27 years of age
Enter university in the last four years
Be from an area outside of Klaipeda City
Not be an Erasmus student in the Fall
Each individual earns points from the criteria in the table below. The total score of a roommate group is the total sum of all its group members' individual points + 1 point for each country represented in the group. Groups with the highest number of points will have the first timeslots to choose a room in room selection during the room selection period.
| | |
| --- | --- |
| Points | Criteria |
| 4 | Student Classified as a Freshman |
| 3 | Student Classified as a Sophomore |
| 2 | Student Classified as a Junior |
| 1 | Student Classified as a Senior |
| 1 | Point given to each country represented in the room |
| 3 | Student Selected for Leadership Development Program 2023-2024 |
Coronavirus and Residence Life
We are no longer offering COVID isolation in on campus facilities. For more information COVID for LCC procedures, select "Latest COVID information" below.
Have a question?
Contact: housing@lcc.lt