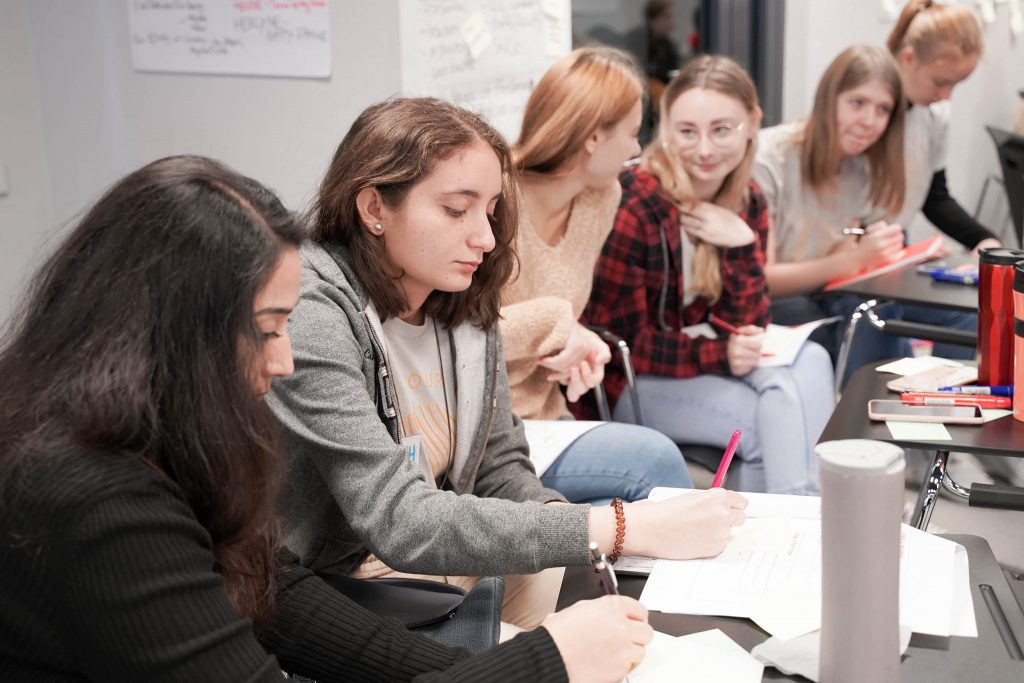 Help is available for discovering your interests, strengths, and personality factors related to careers. You can learn a lot about your options and what you would be good at by visiting the Career Development Center. We have tools to help you discover what careers you would most enjoy. To help plan and develop your career skills we organize workshops, assessment tests, and provide individual career counseling to students of any year.
Individual Career Counseling
Career counseling sessions are designed to help you define your career/life path; identify your skills and areas of interest.
Discuss your major and career goals. Get to know your skills and values to narrow down your career direction.
Get assistance in developing your CV and cover letter to make sure it is conveyed in a clear, well-organized and professional style.
Get information on a summer job, on and off campus job postings and internship possibilities in your career field.
Improve your interviewing skills by signing for a practice interview.
Fill out an employment survey so that we have your CV and interests on file to share with future employers
Know more about yourself
Explore the various assessments in this section, feel free to schedule an appointment with the staff to discuss the results and how they can be applied.
The Strong Interest Inventory (MBTI)
Free | Take a Test >
MBTI is an assessment tool used by many colleges and universities. You answer a series of simple questions, and the computer-scored tabulation provides information about your interests, strengths, and personality related to different types of careers. This tool can also suggest specific courses, jobs and internships, and extracurricular activities relevant to personal and career interests. The MBTI is a personality inventory that identifies you as one of sixteen distinct personality types. Each personality type correlates with happiness in certain careers.
Psychometric Tests
Free | Take a Test >
Psychometric Tests (also known as Aptitude Tests) are a common part of the job interview process at many companies across the world. They generally consist of a series of timed questions, that are most often numerical (maths questions), verbal (reading comprehension questions) or logical (diagrammatic questions).
Psychometric testing is often used in recruitment to help companies work out which applicants are most likely to be successful in a particular job. Testing aims to assess how specific abilities of a candidate will relate to the requirements of a role. There are many different types of psychometric tests but broadly speaking, they fall into two categories:
tests of ability (what a person can do)
tests of personality (what a person is like)
Practice Aptitude Tests
Free | Take a Test>
Aptitude tests: numerical, verbal, inductive, abstract, cognitive, deductive, logical, mechanical and Watson Graser. Aptitude tests are short tests employers use to assess whether a candidate has the level of competency necessary for a particular type of job. In general these tests will measure critical thinking skills, attention to detail and problem-solving skills.
Holland Code Career Test
Free | Take a Test>
You'll learn more about what these scores mean, and how your top interest area can help you to understand which careers you are suited for.
Career Values Assessment
Free | Take a Test >
The Values Test can help you learn more about your underlying work needs and motivations, and can help you decide what is important to you in a job. The test does this by asking you to rank different aspects of work that represent six underlying work values. Knowing your work values can help you decide what kinds of jobs and careers you might want to explore. When you complete the test, you will get scores for each of six work values clusters.
Big Five Personality Assessment
Free | Take a Test >
Five personality traits are evaluated: openness, conscientiousness, extraversion, agreeableness, and neuroticism. The assessment identifies a preference out of the five and can help you identify learning styles as well as work preferences.
StrengthsFinder
23 EUR | Take a Test >
Top 5 CliftonStrengths reveals the first five talent themes in your profile and includes basic strategies to help you start applying your them to succeed. It measures your natural patterns of thinking, feeling and behaving. Top 5 CliftonStrengths is ideal for people who want a basic understanding of what they naturally do best.
Resume & Portfolio Resources
Resume Resources:
Portfolio Samples:
Job Interview
Interviewing is one of the most important steps in the job-seeking process. Studying up on interview techniques, looking at an interview sample Q&A can be helpful. The success of the interview will be directly related to the preparation time you give to it. CDC assists students to be prepared for the interview – we organize mock interviews and discuss your individual performance.
Dressing for an interview
Interview techniques
Mock interviews
Interview over Skype
Employment for students
Practicum
When you begin your search for practicum opportunities that fit your needs, requirements, and major; the first step would be to contact your Practicum Professor directly to receive information on possible opportunities for you.
On campus employment
The Career Development Center will provide job opportunity listings as they become available throughout the year. All openings, whether on campus or off campus, are posted on CDC bulletin board, CDC Announcements channel on Teams and CDC Facebook group. Join our Employment Database if you are interested in tutoring, translations, babysitting and other opportunities.
Off campus employment
According to new regulations in Lithuania, Non EU students can officially work up to 40 hrs/week with the TRP card during the academic year. TRP card also allows you to work up to 40 hrs/week during the summer season. If you DO NOT have a TRP you are unable to get employed in Lithuania, on or off-campus.
Click here to look at employment resources in Lithuania.
Application for English tutoring – This form has been created to build a data base of students who are interested in tutoring. CDC will use it for more efficient way addressing students about tutoring requests. If you would like to be contacted in case of tutoring request, please fill out this form. CDC will contact ONLY those students who are in the database for English Tutoring.
Below are some sources to look into when looking for off-campus employment;
EURES – job mobility network
European Employment Services is a co-operation network which brings together the European Commission and public employment services of the countries belonging to the EEA (European Economic Area). The purpose of EURES is to provide information, advice and recruitment/placement services for the benefit of workers and employers as well as any citizen wishing to benefit from the principle of the free movement of persons. You can search for any job in any country by using this portal: www.eures.europa.eu
Summer employment
As LCC students enter the summer break already in May, this gives an exceptional opportunity to work for all 4 months. Summer employment gives students experience in a dynamic workplace environment and offer learning opportunities that will develop and improve their skills for future employment. Please note that students are expected to return by the first day of classes and might be automatically be withdrawn from LCC if they fail to do that.
Work & Travel USA
W&T USA program is the most popular summer work exchange program for students. Participants work for up to 4 months for the US host companies / employers. Both the EU (in freshmen, sophomore and junior year) and non-EU (in sophomore and junior year) nationals can apply for this program. There are two agencies that run the W&T USA program:
Greece
Students are provided with internships in the tourism and hospitality industry. If you wish to apply visit:
Germany
Students are provided with a freelance jobs in English language camps for kids in Germany. If you wish to apply visit:
Fokuscamps – apply online here
Camps for Friends – apply online here
Camp Adventure – scroll down and apply online. There are different job positions, mostly voluntary.
After graduation
Visit LCC Career Development Center to get assistance in developing your career plan and following it.
Employment
Networking
LinkedIn
Job fairs in Lithuania
Job search in LT and EU
For more support and information for seniors, visit our "Senior Package" website
Have questions about your career?
If you have any questions or concerns about anything written above (CV or Cover Letter writing, interview prep., employment, career goal setting, etc.) feel free to set up a meeting with the Career Development Counselor via this link – Meeting with CDC or Contact: cdc@lcc.lt