Student success
Your Success is not just good grades and progress towards graduation, but a holistic sense of fulfillment. We want you to be a vibrant and academically confident student, an active member of our community, and a competent global citizen. We will partner with you and you can trust our staff to collaboratively provide needed support.
Your Success guides
"Student Support"
Kaleigh provides leadership to the Student Success Center (SSC). Kaleigh leads the First Year Seminar program for all incoming students. Her team of FYS student leaders are ready to welcome new students to campus! She is also happy to help with time management strategies, study skills, and anything else to help you be successful!
Kaleigh Richardson
Director of Student Success & Wellness
"Career planning"
Jelena is responsible for assisting students in career planning and development; provides career coaching sessions; organizes seminars including simulation interviews, CV writing workshops and job search techniques. She also helps students to find a job on campus or off campus while they are studying. She also coordinates student practicum and summer employment.
Jelena Petruni
Career Development Counselor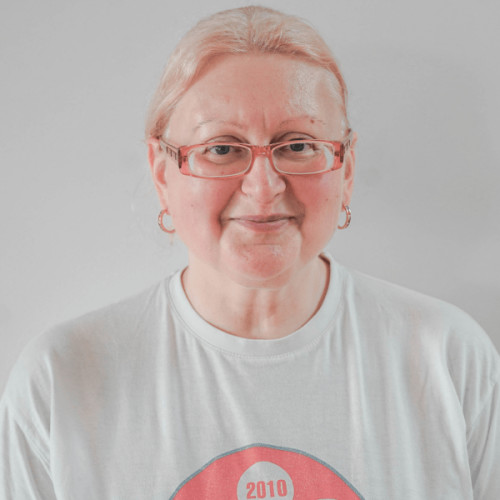 "Personality Assessments"
As a university student counselor Ina has worked with students at LCC International University since 2001. She is interested in development of the identity in young adults through university experience and support the students can receive in caring multicultural community.
Ina Kamaitytė
Counselor
Tutoring & Academic Support
The Student Success Center (SSC) provides individual support and tutoring in math and writing, as well as other subject areas as needed. The SSC seeks to provide a welcoming, safe, non-threatening, and confidential setting where students' academic questions can be heard, addressed, and acted upon in a timely manner.
Writing Tutors are available to help all students working on writing assignments for any course at LCC. Trained tutors are available for one-on-one assistance with student writing, i.e. proofreading drafts, academic writing coaching, help with citations, formatting, etc.
Group Study Sessions are offered prior to midterm and final exams to help students prepare in a group learning environment.
Need help in another area? Reach out to krichardson@lcc.lt for help with time management, working with professors, and more!
Math Tutors are available to help all students working on math & business assignments at LCC.
Together with Thesis Directors, a Thesis Writing Workshop Series is offered to senior students who are in the process of writing their thesis. Topics can include: organization, sourcing, proofreading, and more.
How can I get help?
Any student may sign-up for tutoring help or individual consultation with or without professor or instructor request.
*To request tutoring in other subjects, please email Kaleigh Richardson or visit the Student Success Center (DeFehr 228)
Want to be a tutor?
Tutors are hired during the Spring semester for the following academic year. For specific questions, please reach out to Kaleigh Richardson at krichardson@lcc.lt
Career Planning
Help is available for discovering your interests, strengths, and personality factors related to careers. You can learn a lot about your options and what you would be good at by visiting your Career Center Director or Counselor. We have tools to help you discover what careers you would most enjoy. To help plan and develop your career planning skills, we organize workshops, assessment tests and provide individual career counseling to students of any year.
Individual Career Counselling
Career counseling sessions are designed to help you define your career/life path; identify your skills and areas of interest.
Discuss your major and career goals. Get to know your skills and values to narrow down your career direction.
Get assistance in developing your CV and cover letter.
Get information on a summer job, on and off campus job postings and internship possibilities in your career field.
Improve your interviewing skills by signing for a practice interview.
Fill out an employment survey so that we have your CV and interests on file to share with future employers
Know more about yourself
Explore the various assessments in this section, feel free to schedule an appointment with the staff to discuss the results and how they can be applied.
The Strong Interest Inventory (MBTI)
Free |Take a Test >
MBTI is an assessment tool used by many colleges and universities. You answer a series of simple questions, and the computer-scored tabulation provides information about your interests, strengths, and personality related to different types of careers. This tool can also suggest specific courses, jobs and internships, and extracurricular activities relevant to personal and career interests. The MBTI is a personality inventory that identifies you as one of sixteen distinct personality types. Each personality type correlates with happiness in certain careers.
CareerLink inventory
Free | Take a Test >
A free online assessment CareerLink Inventory, is a relatively simple tool that can teach you a lot about yourself and career that can suit your interests.
Holland Code Career Test
Free | Take a Test >
You'll learn more about what these scores mean, and how your top interest area can help you to understand which careers you are suited for.
Career Values Assessment
Free | Take a Test >
The Values Test can help you learn more about your underlying work needs and motivations, and can help you decide what is important to you in a job. The test does this by asking you to rank different aspects of work that represent six underlying work values. Knowing your work values can help you decide what kinds of jobs and careers you might want to explore.When you complete the test, you will get scores for each of six work values clusters.
Big Five personality assessment
Free | Take a Test >
Five personality traits are evaluated: openness, conscientiousness, extraversion, agreeableness, and neuroticism. The assessment identifies a preference out of the five and can help you identify learning styles as well as work preferences.
StrengthsFinder
23 EUR | Take a Test >
Top 5 CliftonStrengths reveals the first five talent themes in your profile and includes basic strategies to help you start applying your them to succeed. It measures your natural patterns of thinking, feeling and behaving. Top 5 CliftonStrengths is ideal for people who want a basic understanding of what they naturally do best.
---
Now that you have learned more about yourself, follow the Career and Employment section of our website to learn how to write a CV, get ready for the job interview, navigate labor market, etc.
---
Probation students
Your academic success is important to us and we want to make sure you know who you can go to for help. If you have been placed on probation, the Academic Support Coordinator will help you through different activities which will allow you to see your strengths, gain knowledge on how to improve your study habits, and work with your time management skills. If you have questions, contact Corrie Giffone in the SSC at cgiffone@lcc.lt. You are also encouraged to meet regularly with your academic advisor to seek help.
Expectations of Probation Students
Once on probation, students will sign an academic contract with the Student Success Center Coordinator. The contract outlines that students on probation must:
Attend mandatory weekly tutoring at the Student Success Center
Take 4 classes or less per semester (24 credits or less)
Retake failed courses
Attend 3 mandated meetings with LCC Staff (See below)
Not work during the probation period
Attend mandatory counseling (not required in all cases)
Raise their CUM GPA to 6.00
There may also be additional requirements specific to each student
What is probation?
A student whose Cumulative (CUM) GPA falls below 6.00 is automatically placed on academic probation. Typically this happens at the end of the fall and spring semesters. Students on probation will be notified by the Committee on Academic Standing.
How do I get off of probation?
If the student raises their CUM GPA above a 6.00 and the contract is fulfilled at the end of the period, the student will return to good standing. If achieving good standing in one term seems unlikely or even impossible, the Committee on Academic Standing will consider placing a student on probation for up to three semesters.
What if I don't achieve the requirements of my contract?
Failure to meet the requirements outlined in the contract will result in suspension or dismissal. Dismissed students will be notified in writing. Students may submit a written appeal to the Academic Vice President. The Academic Vice President's decision is final and non-negotiable.
Mandated Meetings
Students on probation will attend 3 mandatory meetings with LCC Staff. Each meeting will be between 30-45 minutes. Students will be contacted directly to arrange these meetings.
Meeting #1, September: Meet with Academic Support Coordinator, Corrie Giffone (DeFehr 228)
Meeting #2, October: Meet with the Counselor, Career Development Counselor, or your Advisor.
Meeting #3, November: Meet with Academic Support Coordinator, Corrie Giffone (DeFehr 228)
First Year Seminar
First Year Seminar (FYS) is a required course that continues New Student Orientation by laying a solid foundation for students to succeed holistically at LCC. FYS provides an avenue for students to integrate into the LCC community, connect to campus resources, and be introduced to LCC's support networks.
FYS has three goals:
To introduce students to academic life at LCC and to equip students take ownership of their university learning

To help students grow personally and to develop vital self-awareness and self-development skills

To connect students to on campus-resources and learning opportunities outside the traditional classroom
Topics Covered During FYS Class Include
Cultural Wellness & Adjusting to LCC
Preparing for Academic Success
Working with Your Advisor
Emotional Wellness
LCC's Multicultural Identity
And more!
Want to lead Orientation and First Year Seminar?
Apply to be a student leader during the Spring semester! Student leaders are hired for the following academic year. For specific questions, visit Leadership development program webpage or reach out to Student Life Vice President Margarita Pavlovic at mpavlovic@lcc.lt.

Helpful Resources
Productivity apps for your phone
Evernote
Evernote is note taking app helps you capture and prioritize ideas, projects and to-do lists, so nothing falls through the cracks.
Forest
Forest – is a clever way to start ignoring your phone. When you want to start a period of close concentration, you open the app and plant a seed. Then you put your phone down and leave it. Leave it long enough and you get a reward: your seed grows into a tree. But if you give in to temptation and check Facebook, your tree dies.
Trello
Trello – To-do lists give you a grip on what needs to be done, which helps you focus on the right thing at the right time.In Trello, you create one or more boards. Each board holds lists, and each list holds cards. Each card represents a 'thing to do' – with its own description, attachments, status updates and due dates.
Google Drive
Google Drive – USB flash drive is headed for extinction. And why? Online cloud storage is why. Google Drive gives you 15GB of free, secure online storage space in which you can create and save anything you like – text files, spreadsheets, pictures, videos and audio. You can access your files from any smartphone, tablet, laptop or computer – and you can share and collaborate on files with others. Perfect for group assignments.